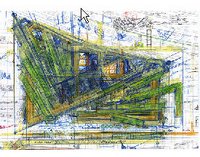 This is one of my favourite architect!
"Born in Poland 1931, Zvi Hecker spent his teenage years in Samarkand and in Krakow before moving to Israel in 1950. He studied architecture at the Krakow Polytechnic (1949-1950) and at the Technion, the Israeli Institute of Technology in Haifa (1950-1954), where he received his degree in engineering and architecture in 1955. He also studied painting at the Avni Academy of Art in Tel-Aviv (1955-1957). Following two years of military service in the Corps of Engineers of the Israeli army, he set up a private practice in 1959, working with Eldar Sharon (until 1964) and with Alfred Neumann (until 1966). Zvi Hecker was adjunct professor at the Laval University School of Architecture in Quebec, Canada (1969-1972); Distinguished Foreign Lecturer at the University of Texas School of Architecture in Arlington (1977); Visiting Architect at the Washington University School of Architecture in St. Louis (1979); Visiting Professor at the Iowa State University School of Architecture (1980), at the Technion Haifa (1997). Between 1998-2000 Zvi Hecker was guest professor at the Universität für Angewandte Kunst in Vienna – Meisterklasse für Architektur. He is visiting lecturer at numerous schools of architecture throughout Europe and the United States. Among his early works are: the Club Mediterrane in Arziv, the City Hall of Bat-Yam, the Military Academy in the Negev Desert, the Dubiner Apartment House in Ramat Gan, the Laboratory Building at the Technion, Haifa, the Ramot Housing in Jerusalem and the City Center of Ramat Hasharon. His more recent projects include the Spiral Apartment House in Ramat Gan, the Jewish School in Berlin, the Palmach Museum of History in Tel-Aviv, the Berlin Mountains, the Army Museum in Jerusalem, the Holocaust Memorial in Berlin, City Center of Bucharest, the Jewish Cultural Center in Duisburg, and the Ansaldo Museum project in Milan. Zvi Hecker's work has been exhibited widely in various cities including Tel-Aviv, Jerusalem, New York, Florence, Berlin, Venice, Vienna, Kiev and others. In 1999 he represented Israel at the 5th Venice Biennale of Architecture, and took part in the 6th and 7th Biennale of Architecture in Venice in 1996 and in 2000. Zvi Hecker has won a number of architectural competitions, and was awarded German Critic Prize for architecture in 1996 and in 1999 the Rechter prize for architecture in Tel-Aviv.
"
to find out more of his work...
Passage located from
http://www.zvihecker.com/index_entry.html
Image located from
http://www.zvihecker.com/index_entry.html
,
Projects, Large projects & Urban Schemes, Dutch Royal Military Academy, KMar Schiphol, Amsterdam, NL, 2001-07, sketches